The Necronauts - "Tranny Fluid Is Thinner Than Water" - PNT (Arizona) 2015
The Necronauts have been releasing records in the Valley for more than 15 years and playing out longer than that. They seem to be on something of a latter-day upswing with the release of OTD last year and now the release of their experimental EP Ralph and Barbara, which came out on April 20. The brothers Goodman, Billy and Dale, are continually full of surprises, and this time they are joined by Timothy Dalton Culver on keys. The entire EP is a wildly schizophrenic affair. If you know The Necronauts, you will love instantly. If you don't, you will learn to love shortly. Conveniently, if you are not familiar with them, their entire catalog is on Bandcamp, and if you listen to their entire works on a Saturday with some whiskey and a bag of weed, it will be worth it. After listening to the entire EP over and over again, I kept coming back to "Tranny Fluid Is Thinner Than Water," and I'm not sure it's intended to be the single or if there is even supposed to be one, but it should be. There is a very Ben Folds feel to the keys and the composition, which appears to be Culver's influence, while the rest is just pure classic Necronauts feel.

OTD review from Yabyum (Arizona) 2015
The Brothers Goodman (Billy and Dale) have been making music together as The Necronauts for fifteen years now. Their latest recording endeavor proves these Tempe musicians still have what it takes to lay out some relevant, innovative alt-rock. Released through High School Football Records, OTD opens with "Bingo Stampede", a lively jam that arrives in a layer of garage fuzz. Throughout the album there is a pervasive sense of discontent that adds a gritty edge to the sound of The Necronauts. There are variations within. Songs like "Pissing on the Sun" and "Left at the Carnival" remind me of the early days of indie and bands like Pavement, but The Necronauts have definitely crafted their own (evolving) sound during their tenure. The album closes with "Bow Tie", a spaced-out instrumental track that gives the listener pause to take in one last musical flex from the talented players in The Necronauts. OTD is one of those albums that I seem to enjoy more every time I listen to it. Maybe that has something to do with the grungy sound that hearkens back to younger days, but I think it has more to do with the subtle intricacies of OTD. It just sort of sneaks up on you. Listen to (and download for free) OTD here.

Sounds Around Town (Arizona) announces 20 best albums of 2014
Mitchell L Hillman
It seems hard to believe that it's been four years since the double album imperative Gauche Et Droite was released by The Nectronauts, but it's true. The Necronauts have been the absolute masters of the lo-fi sound in AZ for over twelve years and it's really fucking refreshing to have them back. The only curious fact about OTD is that it features electric drums when they have one of the most capable drummers in the form of Dale Goodman. This album seems like Billy Goodman's declaration to the world that he is first of all not dead and second of all, still relevant. Both of these points, to these ears seem true. I think what amazes me here is that their music is still compelling, it still makes me smile and I sure as shit hope they have some shows to back this up, because The Necronauts make me fucking happy. After the last release, this seems like a brief affair, but it is no lesser. They have a style that is uniquely their own and it's easy on my ears, half of the time listen to them is pure nostalgic reverie and the other half is that they still sound so goddamned good. Listen to "Wonder" and ponder your own childhood and a view through television, compare cartoons to CNN and evaluate your modern reality. Meanwhile, "Pisssing On The Sun" may be some of the best retro pop that the band has ever pulled off, ever and it's very Kinks-like, which means this could go very well in everywhere but America. Electronic drums or not, this is a pretty glad return to form and probably the most welcome comeback of the entire year. I'm not sure how the brothers Goodman will pull this off live or even if they intend to as a duo, but man I can't wait for that to occur. I hope it's at the Yucca, because it should be. Without hesitation I can say this is one of my favorite albums of the year.

Ink19.com reviews Gauche et Droite! 2013

It's punk, and a there's a heck of a collection of it here: two CDs with 40 cuts and a big fat lyrics book. This band has been plugging away for the past decade in Mesa, Arizona. Their sound is pleasantly fuzzy and energetic, their lyrics clever and accessible. And by "accessible," I mean you can hear what Billy Goodman is singing without the cheat book.

Once you're though the little instrumental ear opener, there's a really cool song: "Sounds Good to Me '83." The guys sing "It was punk rock and now it's jock rock." True enough, punk has moved mainstream to the point where the boneheads on the varsity team listen to it and the little misfit kids have been driven off to Goth or dubstep or whatever we hide out behind today. "Skateboarding Hurts" is another nice bouncy mash-fest. It alludes to these Goths and how, occasionally, they are willing to make out with the punks. (Just be careful of the pointy fashion accessories.)

Both discs are riddled with gems like these, and the CDs are printed to let the silver layer glow through the eyeballs of the band members' portraits. It looks like their eyes are following you -- how creepy is that? Its punk creepy, that's how creepy. -- Carl F Gauze


Gauche et Droite gets some love from Andy Hermann @ Metromix.com,
featured in over 60 cities nationwide! 2011

Latest release: "Gauche et Droite"
Who: Brothers Billy (guitar/vocals) and Dale (drums) Goodman have been kicking around the Tempe, Ariz., rock scene for over a decade, with various bassists in tow. For the first five of those years, they were almost insanely prolific, releasing four albums, an EP and various singles and compilation tracks. Then…nothing, until this 40-track, double-disc opus.
What they're saying: "You know those amazing rock bands you grew up with? Or wish you had? You know. The Pixies. Built to Spill. The Replacements. The Necronauts have swallowed them. Whole." – Mike McQuillan, Yab Yum Music
What we're saying: Listening to "Gauche et Droite" is like discovering a really great college radio station circa 1994—the slacker-rock hits just keep on coming! Just when you think Billy Goodman's songwriting can't get any sharper, it does, culminating in the sunny yet sardonic "Leslie's Deal," a Paul Westerberg homage masquerading as a mash note to a female rock promoter. With 40 tracks (including some demos and alternate takes, but still) and nary a misfire among them, the whole thing is jaw-droppingly good. Like, "Crooked Rain," "Too High to Die," "Perfect From Now On" good. Where have these guys been hiding for the past five years? – Andy Hermann
Listen: "The Necronauts - Ashes Over Idaho"

Gauche et Droite receives 4 star review in
Pennsylvania's Daily News -- courtesy of Jeffrey Sisk 2011

"Gauche et Droite" — It seems pretty clear to me that half-brothers Billy and Dale Goodman spent a lot of time listening to bands like Built to Spill, Dinosaur Jr., Pavement, Sonic Youth, the Pixies and Fugazi while growing up in the suburban confines of Mesa, Ariz. Since founding the Necronauts a decade ago, the Goodmans have paid homage to those that influenced them through their own energetic brand of indie rock.After a six-year wait, the Necronauts return in a big, big way with "Gauche et Droite," a sprawling two-disc, 40-track collection of tunes that represents the best work of their career. Rock solid — and occasionally spectacular — from beginning to end, it might be tough making it through "Gauche et Droite's" 104 minutes in a single sitting. Unless, of course, you're planning a long drive somewhere or are really, really bored one afternoon. Fortunately, no matter what size musical bites you take, I'm pretty sure you'll find the Necronauts quite tasty.
Disc 1 is (slightly) superior to Disc 2 with standout tracks such as "Land Survey (Put Another Bullet In the Chamber)," "Depredation Medication," "Firekid/Lovefriend," "Gravity Is Not Your Friend" and "On Fire." While not quite as consistent (and bogged down with "original versions" of a half dozen songs from the first platter), Disc 2 scores with the bluntly titled "S***," "For the First and Last Time," "White Mouth" and "Too Fast for Johnny." Good stuff. (JS)

Gauche et Droite review @ BrooklynRocks NYC Music Blog courtesy of Mike! 2011

I've never heard of The Necronauts prior to receiving a review copy of the band's sixth disc, Gauche et Droite. While The Necronauts fall into the "indie rock" genre, this label is somewhat misleading as this sprawling forty track / two-disc release has much more in common with bands like Pavement and Sebadoh than with any of today's indie-rock bands. This release is a welcome throwback to the days of lo-fi DIY rock where, if a band got lucky, they might be able to break-out of the "get in the van" underground with an appearance on MTV's 120 Minutes.
The Necronauts were formed in the year 2000 by half-brothers Billy and Dale Goodman of Mesa, Arizona. In their first four years, The Necronauts independently released five albums, including a critically acclaimed self-titled EP in 2004. Recording for Gauche et Driotte began in 2005 and singer/guitarist Billy Goodman said "I intended it to be a double album. I talked a lot of shit and opened my mouth about making this epic album, I had to keep my word. I'll never make that mistake again."
The 2CDs show the evolution of the band's songwriting process as Disc One ("Gauche") contains nineteen tracks of lo-fi slacker rock and Disc Two ("Droite) contains nine early versions of tracks from "Gauche" that are significantly different from the finalized versions along with ten new songs. The song titles are completely unrelated to the lyrical themes, as reoccurring themes seem to be about dysfunctional people, relationships and the silliness of following the implicit rules of a given "scene". On top of the band's general skepticism, they seem to have a particularly negative outlook toward organized religion. This somewhat cynical outlook isn't immediately obvious as it is delivered amidst catchy, sing-along melodies and memorable musical hooks.
The song "Skateboarding Hurts" (video below) is about dysfunctional relationships.
For anyone who "shot up" on The Minutemen and Meat Puppets in the 80's and Pavement and Sebadoh in the 90's, this is essential listening.
Gauche et Droite contains a 30-page booklet with lyrics, artwork by Dave 'Luster Kaboom' Quan.


"Slack attack" courtesy of Jarret Keene @ Vegas Seven 2011

Plenty of '90s, slacker-era rock bands are reuniting these days—from Pavement to the Pixies. But wouldn't it be nice to catch a (relatively) new, young band evoking the downcast energy of that decade while flying the flannel for fiercely nonfinancial reasons? Lucky for us, then, that Mesa, Ariz.'s The Necronauts are playing Yayo Taco on Feb. 25, and they seem to be blissfully unconcerned about cashing in on Gen X nostalgia.
Used to be alt-rock bands didn't worry so much about having a trademark sound. They'd jump around stylistically for the sake of whatever muse they pursued, often relying on more than one songwriter. Bands such as Firehose and Fugazi and Jane's Addiction and Hüsker Dü relied on more than a single, primary songwriter, pushing the limits of any formula they risked falling into, refusing to be pigeonholed, and preferring to break up than settle for monotony. The Necronauts pay homage to that time, making it sound like there are 20 writers in the band, even though brothers Billy (vox, guitars) and Dale Goodman (drums) are responsible for the music.
From the funky guitar licks and killer scat singing of "Ashes of Idaho" to the highway-driving pop-psychedelia of "Stevie's Deal," the Goodmans' recently self-released double album, Gauche et Droite, is a monstrously good DIY masterpiece. Safe to say the band is quickly becoming an alt-music connoisseur's band.
"That's what people say," says Dale during a recent phone chat in a Tempe, Ariz., bar waiting for his girlfriend's band to take the stage. "Everyone pins the '90s thing on us pretty strong, but at least people generally seem to like us."
Well, most everyone. A few critics chastised the band's first album for being too promiscuous with too many genres.
"Whatever we play is always in our style," Dale says. "So what if we sound like two or three different bands? That shouldn't be a problem."
It's certainly not. Now, where in my closet did I stash my flannel shirt collection?


AntiMusic.com's review of The Necronauts Gauche et Droite 2011
Not unlike Arizona's beloved Meat Puppets, the Necronauts are tough to categorize. This 2-CD set finds the duo channeling the Pixies and other bands of that ilk on the generous helping of 21 cuts on the Gauche disc (gauche et droite is French for left and right) while the Droite sides are a little wonkier, reminding of everything from British synth bands to the Velvet Underground to surf-y garage rock. Probably the important thing here is not to worry about comparisons; Gauche et Droite goes through as many enjoyable twists and turns as a MGMT album and you won't regret the couple of hours spent finding that out for yourself.
"The Necronauts are all kinds of awesome" courtesy of dez @ azmusicconnect.com 2011

It's hard not to like, or at least respect, The Necronauts. The Tempe band plays excellent music and gives you a lot of it. The trio has been around for quite a few years, and released their fifth album Gauche et Droite late last year. It's a wonder why the world doesn't know about these guys.
The band consists of three members, Billy Goodman on guitar, keys and vocals, brother Dale Goodman on drums, and Jason Sukut on bass. Even with just a lineup of three, the band's high energy indie rock is very full sounding. They employ a mix of slower songs and faster songs and somehow employ an incredibly diverse sound. Billy Goodman's voice seems to change on every song, as if he was switching vocals cords like you could switch guitars.


We Don't Want to Know Where They're 'Boldly Going' courtesy of Flagstaff LIVE! 2011

Since the release of their ambitious double album, Gauche et Droite, Tempe-based band the Necronauts—comprised of half brothers Billy and Dale Goodman, plus an oft-changing cast of musicians—have been heaping on the praise as they tour the country, garnering comparisons to everyone from Built to Spill and Sonic Youth to Nirvana and the Pixies. Catch their furious pop and hook-heavy rock 'n' roll as they return to Flag for a show at the Monte V.

Gauche et Droite gets an 'A' on Shakefire.com courtesy of Jennifer Isbell 2011

Hey kids, do you remember when alternative when it really was alternative? You know, NO ONE HAD EVER HEARD OF IT, and it didn't win Grammys or get played on your parents' stations? Well then, "Gauche et Droite," the long-awaited fifth album from brothers Billy and Dale Goodman and Chris Warmuth (i.e., The Necronauts) is right up your alley.
You get two discs of 40 pure and raw and entirely enjoyable songs:
21 songs on disc 1 (gauche)
19 songs on disc 2 (droite)
That's a lot of music, peeps. Granted most of them clock in around the 2 1/2 minute mark, but WTH? This stuff is good. Is it perfect post-production quality? Hell no, and thank goodness for that! These are not your typical three-chord songs that spew angst, rather they are filled with meanings that may deny the title (e.g., "Skateboarding Hurts" ain't about skateboards) and hello, odd meter rythms! Ok, there may be some angst, but it's so perfectly packaged, it's actually real. And you can relate to it. All of it.
The Necronauts cite Sonic Youth, Sebadoh, Pavement, Pixies, Nirvana, Fugazi, and Built to Spill as some of their influences, but honestly I hear more than that, but I just can't put my finger on what it is. All I know is that I like it and will be listening to this record a lot.
Dale's cameo in Dave LusterKaboom Quan's Magical Moments 2011


Java Magazine's Gauche et Droite Review by Mitchell L. Hillman 2010


Yab Yum Music "Gauche et Droite" Review 2010

I read a lot. Over the years, this habit has earned me nicknames such as "nerd," "poindexter," and "Dude, you need to get laid." And while there is a sliver of truth to these accusations, I hope to use my bookish habits as an illustration tool in this, my review of The Necronauts' Gauche et Droite.
A month or so ago, I attempted reading Homer's Iliad. This epic struggle between Achilles and Agamemnon, with the meddling of the gods, was fucking awesome… while I was reading it. The problem was, every time I put it down and went to start again, I'd think about the 600-odd pages of epic poetry before me. I ended up feeling overwhelmed and never finished.
Gauche et Droit's one weakness, the one thing keeping it from being my favorite local album, maybe ever, is its sheer enormity. Two CDs, 40 tracks. Not one a dud, but I just can't take it all at once.
Where to start? You know those amazing rock bands you grew up with? Or wish you had? You know. The Pixies. Built to Spill. The Replacements. The Necronauts have swallowed them. Whole. And, like the girl in Nightmare on Elm Street IV that gains the abilities of her dead friends, The Necronauts became a hybrid of the aforementioned bands, a bunch more from college rock's heyday, and their own Tempe-bred frustrations.
Translation: seriously great rock.
Some highlights: "Land Survey (Put Another Bullet in the Chamber)" is Dinosaur Jr. on a particularly good day. "Old Highway 666" is the kind of menacing rock 'n roll your pastor warned you about.
Droite, the second CD, is a collection of B-sides, demos, and original versions. If anything, it shows that the band takes their music seriously long before putting the finishing touches on. If this were their entire album, they would deserve kudos nonetheless.
There is a flip-side to the album being so long. It's a lot of great music. Perfect for parties where the keg is PBR. Perfect for a burst of energy before work. So what if it isn't a headphone album?
And I can't help but think the album's length is a big "fuck you." To who, I'm not sure. Conventional album lengths? Those Tempe musicians stuck in '94, still trying to make the next Gin Blossoms single? Or maybe to the parts of themselves that thought they couldn't do it. Well, they did it. And they made one of the best albums to come out of the Valley in a long, long time.




Mike Watt fucking remembers us! 2012
(from 2nd heapin' helpin' of 3rd opera tour diary)
raul takes south on I-17, I konk on the back seat and pop when we pull up to the venue we're working tonight here in phoenix, "the crescent ballroom" to give directions where to load in cuz I was here for a fIREHOSE gig opening for m. ward just here last april. the weather is warm but not broisting, very mild. we soundcheck w/knobman daniel who is very cool people and then I chow a barbacoa burro (sic) from the kitchen here, I dig it. the necronaunts (tee hee) are opening - I think I played w/them in tucson before, maybe w/my secondmen like eight years ago... my memory, aaarrrgggghhh - but maybe I'm write. I'm really tuckered and go to the boat to konk.









Dale Goodman immortalized by Satan's #1 Monk, Jeff Owens!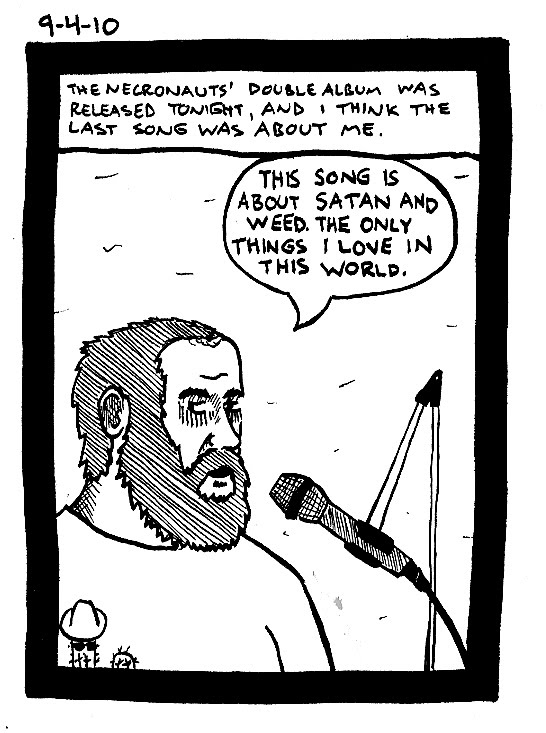 Flagstaff Music Review July 2008

July 5 2008 Emperors of japan, Necronauts, and Former Friends of american kids @ the Monte Vista live concert review
(FORMER FRIENDS OF AMERICAN KIDS)
As we walked into the Monte Vista hotel and lounge we noticed that the first band had already taken the stage; Former friends of American kids. Nothing caught my eye really other than the bass player was wearing a graduation robe and cap for no particular reason, there was no definite gimmick with this band, and the lack of energy on stage and involvement with the audience, they just didn't seem too into it. The entire band consisted of a drummer, the guitarist (that was also lead vocals) and the bass player. I'm not sure what was with the back-up singer, she just stood there and hummed a couple of lines per song. Since we're on the topic of songs, I'll get into their music. It had a very "chill" vibe which was appropriate for the small setting and the lighting they had on stage with shades of blues and greens also fit their sound. After listening to a couple of their songs it felt tired and boring. Many of the guitar riffs sounded alike and were very simple and most of their songs sounded like something you would here in the background of a movie, or the tracks you would hear at the end of an album…for the ENTIRE set. Most of their songs also sounded the same from what we could hear, there was a lot of feedback from their instruments and the entire thing sounded "underwater". They could be considered 'ambient rock' and if that's what they were going for, they met expectations but did not exceed them which in turn left us with the feeling of being let down. The one thing that really got me in the end was the last song, there were multiple build-ups with no resolution what-so-ever. Most would see this as a unique move (if done right) but it wasn't this time and may have caused an uncomfortable dissonance for the listener. On top of that the last song dragged out way too long as if they were trying to lull the audience to sleep before the next band. Over all this band is nothing too special and I think they can do more.
Former Friends of American Kids gets a 4/10
(The Necronauts)
Ah, the second band, there's nothing negative I can think to say about this band. They were amazing. Set up and sound check went by pretty quickly. While they were still setting up the drummer was nice enough to grace us with a drum solo to keep us entertained. Before they even started their set they said a few words and even threw around the names of a couple of other bands, showing them support as well. Pretty awesome. They got right into their music without hesitation and the audience exploded with the energy they put off. Their sound was like funky punk with their own heavier slant. I could even go to say that they could be compared to a combination of the Chili Peppers and sublime with a dash of punk. They themselves called it 'Indie Space Rock', which pretty much sums it up. They definitely have their own style that is nothing less of rockin'. Everything from the guitar to the vocals, the drums and bass, was awesome and next to perfect. The songs were short, sweet and to the point. And they seemed to have as much fun performing as the audience did watching them. As my buddy put it, "this band has their shit together!" and I couldn't agree more. The show was free that night, but we agreed that we would definitely pay to see them again, given the chance. The last sond they played was an instrumental piece that was darker and heavier than the rest of the set, a perfect finale full of rockin' guitar solos, smashin' drums, and sick bass. Unfortunately the set has to end sometime. The only thing I have to say is that I would like to see them use more of those super-awesome last song skills in future work and they just rock. They come at ya' with more energy than you know what to do with and with a variety of sounds that will leave you wanting more.
The Necronauts get a: 8/10
(Emperors of Japan)
So here came the 'stars of the show'. Set up took way too long, as if they expected the audience didn't mind waiting for them. The first song started out with a repetition of the same 4 notes twanged out on a clean guitar over and over. At first I thought that it was for sound check or maybe just a little jam before the set started…but it wasn't, it was the song and it was horrible. Soon after the bass and drums kicked in and again I have to say it was nothing special. The guitarist was even wearing one of those pooh bear kids costumes as a hat as if it was cute or unique which it wasn't. And again like the first band, this band was full of slow redundant riffs that most people could probably play in their sleep and the lyrics were incomprehensible and the melodies dissonant. In fact, this could be compared to the first band only louder with more feedback which was surprising considering how long they took to set up. We were very disappointed and did not stay for the entire set, but did however drop of some business cards of a local costume designer at their merch table, maybe they'll use them and at least be something to look at instead of another generic mediocre band.
Emperors of Japan get a: 3/10
After the show, and after writing this review, it's clear that even though Emperors of Japan were the headliners for this show, the Necronauts were definitely the stars. I recommend checking them out so you, too, can experience their awesomeness.


Arizona Republic 2005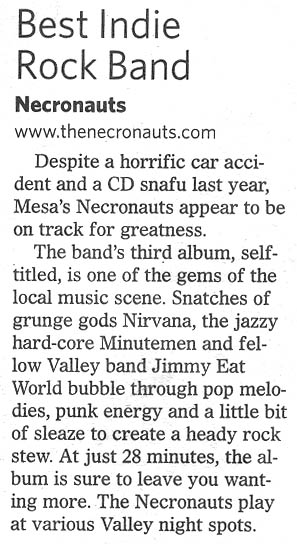 Esquire Magazine April 2004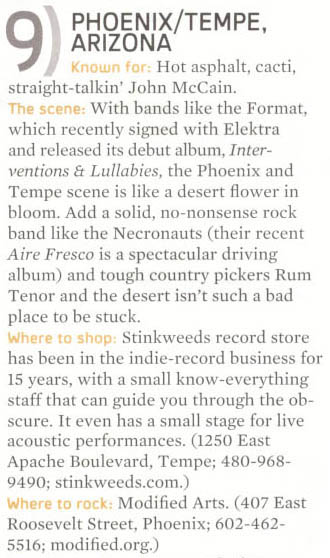 Get Out (Tempe, AZ) sometime 2003
Indie rock trio the Necronauts have chosen a fine title (translated from Spanish it means "fresh air") for their second disc. ... The new album hones in on an appealingly straightforward pop rock sound that helps singer Billy G.'s skewed lyrical tales go down easily. The majority of "Aire Fresco" was recorded live at downtown Phoenix's cozy Modified Arts, and though the sound quality is primitive at best, the charm of songs such as "Familiar Burns" and the menacing "Bound to the Ground" come through unscathed. ....the Necronauts have unearthed a gem...

Zia Zine Sept. 2002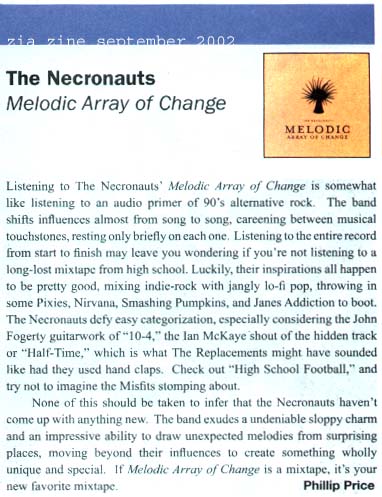 Impact Press sometime 2002
The Necronauts • Melodic Array of Change
High School Football Records
From jangly indie pop to driving punk rock to a wee bit of funk, The Necronauts hop from genre to genre effortlessly. The Arizona trio's tunes recall a number of alternative staples, particularly the Pixies (hey, what indie rocker hasn't been influenced a little by the Pixies over the past 10 years?). This is some good stuff from the Grand Canyon State. (CL)

-- Kristin Schall
copyright 2001 Made To Be Broken, used by permission

I'm sure you're already asking yourself "Who are the Necronauts?" If you're not, you should be. They aren't some new superhero crime fighting team whose adventures are broadcast on Saturday mornings for you to watch over a bowl of cheerios. They may not be super heroes with the ability to fight crime, but they are a band whose talent, uniqueness and energy have the potential to make a huge impact in music. The Necronauts, who consist of Billy G. (vocals/guitar), Andrew Kirk Pangus (bass) and Dale "Mr. Entertainment" Goodman who resides "neatly behind the drum kit", have been together for over a year. They hail from sunny and hot Phoenix, Arizona, but the climate hasn't stopped them from performing a vigorous one to three times a week sometimes playing two shows on the same day. Their musical influences are diverse and include bands such as, Modest Mouse, Pavement, Fugazi, Chuck Berry, Led Zepplin, and The Pixies. Their discography includes a 15 song demo entitled 15 Songs About Snoitome and Soitautis, a 12 song demo that will be released in the very near future and, a studio LP that is halfway recorded and will be completed using funds from the demos and other merchandise. The completion of August 2001 will bring about a slow of pace for The Necronauts. They plan to use their time to focus on getting merchandise and demos out. They may string together a few dates for a small tour of a few southwest states. After playing with innumerable local acts such as, The Levines, Stereotyperider, and Redfield along with national acts including, Frank Black, Superdrag, Link 80, No Motiv, Zebrahead, and Marky Ramone and the Intruders, the change of pace will allow The Necronauts to focus on other aspects of music beside performance. I got the chance to see The Necronauts perform on July 21, 2001. This was one of those days where they were scheduled for two shows on the same day. Billy (vocals/guitar), who is one of the nicest people I've met, picked me up from my house shortly before the first show of the evening (a gesture I'm quite appreciative of) and we were off to the first show. We arrived at The Buddha Lounge, in Phoenix, Arizona not too long before the show was scheduled to begin. Much to my surprise no one had arrived yet, even the rest of the band showed up fashionably late. This wait before the show allowed me to take in the venue, which was the nicest venue I've ever seen. It's lit with black light, giving it a nice atmosphere, a stage area that is set back, comfortable chairs and couches line the walls and there plenty of room to enjoy the show with out being crowded. When The Necronauts, who went on first, began their set approximately 20 people had arrived. They opened with an instrumental intro that flowed beautifully into their first song "Texas". The energy they had from beginning to end easily compares to the energy of a five year old on pixie sticks. To categorize The Necronauts sound would be doing them an injustice. Every one of their songs are different, I found it refreshing to listen to a band whose songs are diverse enough to be able to tell one from the next. This could pose as a challenge in transition between songs, but The Necronauts do it flawlessly. The audience's reaction was slightly disappointing. I could sense them enjoying the performance but they were hesitant to warm up to The Necronauts and gave just a polite response. This reaction most likely stemmed from the fact that the majority of them were there to see The Levines, who were set to go on following The Necronauts. In spite of the crowd The Necronauts gave a performance full of energy, this combined with their talent gave them an impressive stage presence. After sticking around a bit to watch The Levines' performance it was off to Boston's in Tempe, a venue not as impressive as the first. Boston's is a large bar that's poorly lit, and extremely hot and stuffy, the only good thing about it is the back of the stage opens up to outside, this allows people to watch the show from the slightly cooler outdoors, escaping the stuffiness of inside. The Necronauts second show of the night was held here. This time they went on second, following a high-quality performance by Hell Is For Heroes. Once again, The Necronauts did not disappoint. The crowd this time was there to see them and a bond was formed almost from the first note of their intro. This bond added to their already magnificent stage presence. One would think that after their first energy filled performance there would be something lacking in the second show due to fatigue. Not for The Necronauts. The second show had just as much, if not more energy then the first, and the level of talent displayed remained way above par.
The Necronauts are the most promising band I've seen in a long time. They have a diverse sound, immense talent and incredible energy. The chemistry between members is incredible. Each member's sound and style fit together like a perfectly pieced puzzle. To be able to play two shows in the same night at such a high level is incredibly impressive. The Necronauts is definitely a name people will be hearing, most likely in the not so distant future. Even though they aren't crime fighting super heroes with their own Saturday morning cartoon and action figures, it is apparent that The Necronauts are on track to become superheroes among musicians.